Charilove in a Sentence
ChariLove Foundation (aka Project ChariLove) is a needs-focused, needs-driven, improvement-oriented and child-prioritized humanitarian service organization. ChariLove is down-to-earth practical and doing everything exemplary on issues of advocacy for the protection, empowerment, liberation and dignity of every life, particularly of the child and youth in need. Our location is ChariLove Centre, Opp. Edo Specialist Hospital, Sapele Road by King's Square, Benin City, Edo State.
Your support will help us to make life better for the poor vulnerable children.
Become a Volunteer
Volunteerism is the voice of the people put into action. These actions shape and mold the present into a future of which we can all be proud. – Helen Dyer
Join Us Today!
Donate Us
Love and kindness are never wasted. They always make a difference. They bless the one who receives them, and they bless you, the giver. - Barbara de Angelis
Donate Now
Our Philosophy
The disabled or critically disadvantaged (whether as a person, a community or a nation) when taught, can learn and become enabled; and when enabled, he can become productive; and when productive, he can become gainfully employed, and when gainfully employed, he can become useful to himself, to his family and to society; and when he thus become useful, people (and humanity) will learn and benefit profoundly from the moral and spiritual lessons of such development.
Our World-View
Inspired by the symbiotic relationship of all of nature, ChariLove, through its founder, in 1990 came up with, and developed, a new idea that brings people with different disabilities together under a common environment that is made appreciably conducive enough for all to live, to learn and to develop in a manner that is mutually benefiting and harmonious.
Our

Prayer and Hope

To have local and global support to help grow and domesticate the essence of ChariLove in Nigeria and beyond.
If you share the ChariLove ideals, please lend a hand.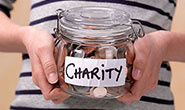 Commitment to providing broad-spectrum services and opportunities that promote the education, liberty and dignity of children and youths who suffer special challenges and needs – as well as orphans- to become the best they can be, and get to enjoy the liberty of inclusion in the daily flow of society.
Our

Numbers
350+
Vulnerable Youths Trained